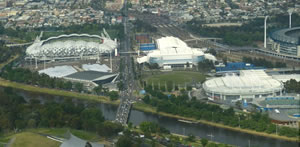 Grand Final Day Melbourne is so popular that the state government made the Friday a public holiday. Melbourne is known as the sporting events capital and the MCG is the home of the AFL Grand Final. So Melbourne will be buzzing all Grand Final Week starting with the Brownlow Medal at the start of the week. Then a Grand Final Parade on Friday through the main streets with both teams soaking up the atmosphere that Melbourne turns on.
Come Saturday from breakfast to closing it will be wall to wall AFL Football in Melbourne anywhere you turn!
We have some great Melbourne venues and ideas for your Grand Final Experience! Enjoy!
Grand Final Day Melbourne Ideas for 2024
With a selection of Melbourne's best pubs, clubs, restaurants, hotels and events over the Grand Final weekend we've got loads of ideas for fun things to do to get your fill of footy fever. Many of these venues will have the Grand Final live and loud on sports screens. Where will you watch the Grand Final?
All the AFL and NRL footy and non footy ideas for things to do in Melbourne with friends and family keep coming this Grand Final Weekend. We've tabled a quick version to help you and your friends get out and about on these Big Days.
Melbourne Grand Final Day Things to Do
Here is our Melbourne Grand Final Day summary guide of things to do. Ideas for the weekend, the day, the eve. Ideas for breakfast, lunch and dinner in great Melbourne restaurants, hotels, pub and venues to help celebrate this awesome September Grand Final Day!
| LOCATION | VENUE | EVENT | COMMENTS |
| --- | --- | --- | --- |
| Southbank | Hophaus Bar | Grand Final Day | May be your team didn't make it to the Grand Final. That's okay. Treat yourself to a great meal and drinks as you watch the big game as a neutral. |
| Port Melbourne | Rubira's | Grand Final Weekend Seafood | Awesome finals footy seafood at Rubira's. The best Grand Final Weekend dining. Make sure you kick a goal and book a table. |
| Southbank | Ludlow | Footy Finals Dining | Ludlow Melbourne is a crowd favourite. Whether you team is not playing finals or not you can treat yourself great food and drinks and enjoy some great footy action. |
| Melbourne | Turf Bar | Grand Final Day Dining | The Turf Sports Bar is a favourite for Sports! With footy on the screens and some great grub catch all the action at Turf. Book your table for Grand Final Day. |
| Melbourne | Bourke St Imperial Hotel | Grand Final Day Treats | Treat yourself to some great food and drinks at the Bourke St Imperial. Right at the top of the CBD and only a short trip from the MCG. |
| Richmond | Amora Riverwalk | Footy Finals Accommodation | Kick a goal with accommodation at the Amora Riverwalk. Close to the MCG and Great River Yarra views, what more could you want? |
| Yarra Valley | Kellybook Winery | Finals Time Cheers | Kellybrook have the Finals selection wines perfect for celebrating Grand Final Weekend. You can toast your team. Order Online and have them delivered. Also order Kelly Brothers Ciders and Craft Beers. |
| Mornington | Luvlee Gourmet Ice Cream | Premiers Ice Cream Treats | Ice Cream they scream! The Siren sounds! The winner is Ice Cream. Luvlee Ice Cream! Treat the family this Grand Final Day. Luvlee Ice Cream Hampers can be delivered! Book it! |
More Great Ideas to help Melbourne Grand Final Day Celebrations 2024
Products and service ideas to make your Grand Final Day in Melbourne even better. Do you need a picnic hamper or maybe you need your hair and makeup. These local products and services are first class for Grand Final.
Grand Final Day Grazing Boxes

Get your Grand Final catering sorted with delicious grazing boxes by Chefscene. Selection of dips, meats, crackers fresh and seasonal. Sweet and savoury options. Why not try the breakfast hamper to get off to a good Grand Final start?

Great for the whole family!

Website

Luvlee Gourmet Ice Cream

Mornington

Grand Final Day Ice Cream Hampers

Kick a goal this finals weekend with an awesome selection of ice cream hampers. Luvlee Gourmet Ice Cream have award winning ice cream you can order Online and arrange delivery. Fantastic for the whole family.

Kick a Goal with Ice Cream

Website

Kellybrook Winery

Yarra Valley

Celebrate Grand Final Day with Wine

Whether your team wins or loses this Grand Final Weekend, you will be on a winner with Kellybrook Wines from the Yarra Valley. You can easily order from the Shop Online and the wines, brandy and ciders can be delivered in time for the opening siren.

Kick Goals with Kellybrook Wines

Website
Melbourne Grand Final Day Community Events
| LOCATION | VENUE | EVENT | COMMENTS |
| --- | --- | --- | --- |
| Melbourne | Yarra Park Precinct | AFL Grand Final Parade | The iconic AFL Grand Final parade featuring the competeing teams. Starting at Melbourne Park Oval before traveling through Birrarung Marr then accross the pedestrian bridge to Yarra Park and the MCG. |
| Melbourne | Yarra Park Precinct | AFL Footy Festival | A festival of footy leading up to Grand Final Day. With free entertainment, player appearances, giveways music and much more. |
More Big Days of fun in Melbourne
All done with Grand Final Day for the year? Now is the time to start looking towards the next BIG days: Hallows Eve and Melbourne Cup Day. All Hallows Eve is all the spooky fun of Halloween. And CupDay.com.au we've got the details of all the fab events happening in Melbourne over the Cup Day break. Check out Cup Day Melbourne!
Then looking further along to the Biggest of the years BIG days, New Year's Eve. And at NewYearsEve.com.au all the ideas for NYE events in Melbourne are at hand. See NYE Melbourne!