Grand Final Day on the Gold Coast comes alive with interest in the AFL and NRL Grand Finals. It's a weekend of footy celebrations and time to get together with friends and ask will your team win?
The Gold Coast is a spectacular locale to find somewhere to take in the nations football game finals. Both games are on TV live and most venues will be tuned in.
Grand Final Day on the Gold Coast Ideas 2024
With the Gold Coast enjoying NRL and AFL thru the years this city is always keen to celebrate the different codes Grand Finals. There's always plenty to do on the Gold Coast in Spring time. So make sure you get out and about with family and friends to cheer. Where will you watch the Grand Final?
All the AFL and NRL footy and non footy ideas for things to do on the Gold Coast with friends and family keep coming this Grand Final Weekend. We've tabled a quick version to help you and your friends get out and about on these Big Days.
Gold Coast Grand Final Day Things to Do
Here is our Gold Coast Grand Final Day summary guide of things to do. Ideas for the weekend, the day, the eve. Ideas for breakfast, lunch and dinner in great Gold Coast restaurants, hotels, pub and venues to help celebrate these awesome September & October Grand Final Days!
| LOCATION | VENUE | EVENT | COMMENTS |
| --- | --- | --- | --- |
| Surfers Paradise | J.W. Marriott Gold Coast Resort & Spa | Footy Finals Dining | Awesome finals footy dining at the J.W. Gold Coast's restaurants. The best Grand Final Weekend dining. Make sure you kick a goal and book a table. |
| Surfers Paradise | TGI Friday's | Grand Final Weekend | Enjoy a great meal at TGI Friday's this Grand Final Weekend. Great menu with a great atmosphere. |
| Surfers Paradise | The Island | Grand Final Day Eats | Offereing 2 fanatsic venues for Grand Final Day eats and drinks Gold Coast style. Book a table for your crew at the Island Rooftop or Goldie's. |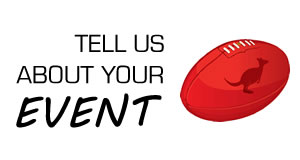 Spring on the Gold Coast just kicks more Big Day Goals
The Gold Coast in Spring is gorgeous with the sun drenched beaches to get you thinking about being out and about. A Melbourne Cup Day Lunch is a great time to get a table of friends together. You are definitely on a winner by planning your Melbourne Cup Day on the Gold Coast.
Start getting ready Gold Coast, the NYE party celebrations are coming together and the party is under 100 days away. Make sure you are across all the New Years party ideas on the Gold Caost and get your party plans started.