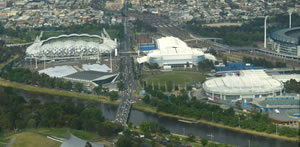 Grand Final Day Melbourne is so popular that the state government made the Friday a public holiday. Melbourne is known as the sporting events capital and the MCG is the home of the AFL Grand Final. So Melbourne will be buzzing all Grand Final Week starting with the Brownlow Medal at the start of the week. Then a Grand Final Parade on Friday through the main streets with both teams soaking up the atmosphere that Melbourne turns on.
Come Saturday from breakfast to closing it will be wall to wall AFL Football in Melbourne anywhere you turn!
We have some great Melbourne venues and ideas for your Grand Final Experience! Enjoy!
Grand Final Day Melbourne Ideas
AFL Grand Final

All inclusive Grand Final Party at Platform 28. 3hr food and beverage package and football fun guaranteed. Big screens to watch all the action.

Tickets $60

Website

|

Email

Grand Final Day at Riverland

Right on the Yarra River just down from the MCG. The atmosphere will be super come Grand final Day and Melbourne's Riverland is kicking goals with Waterfront Views, Barbeques and Beer all to add to your AFL Grand Final Day Experience.

Website

|

Email

AFL Grand Final Day

Catch all the action of the AFL Grand Finals LIVE & LOUD at the Wharf. The big games will feature on the BIG Screen and on Plasmas throughout the venue. Enjoy the food and drinks specials and our half time handball comp. Stay on after the final siren for some LIVE tunes.

Website

|

Email

Grand Final Week

All the AFL finals action live on the big screens from Sept 29th to Oct 2nd. With DJ's and Acoustic sessions to accompany all the footy action, this will be party time on Melbourne's South Wharf.

Website

|

Email

AFL Grand Final

Right on the Yarra this awesome venue will be footy alive with and AFL Grand Final. Watch the game live on the Mega Screen, and then follow it up with LIVE music directly after the game.

Website

|

Email

Grand Final Eve Eve Party

With the Grand Final Public Holiday on the Friday to recover Thursday Night is the perfect time to party. Head down to the Temeprance Hotel in South Yarra and enjoy the party with Drinks Specials & Melbourne's Best DJ's. Temperance will also be showing the Grand & Loud on the Saturday!

Website

|

Email

AFL & NRL Grand Finals

Head down to the Woolshed to watch the two biggest games of the year. The AFL and NRL Grand Finals will be shown live on the big screens so book a table and see all the action from this iconic Melbourne Docklnads location.

Website

|

Email

Footy Free Zone at Campari House

Get the girls together and have a footy free day at Campari House. Enjoy the $15 Cocktail menu all day and party in the lounge room from 9:30pm with Campari's resident DJ.

Website

|

Email

AFL Finals LIVE

The Precinct Hotel will be showing every game of the AFL Final Series LIVE on it's Big Screen. A fantatic venue for your pre and post-game activities.

Website

|

Email

AFL Grand Final Weekend Eve

With the new Grand Final Public holiday on the next day Spice Market are rolling out the welcome mat on Thursday evening with some fanastic drinks specials to kick off your long weekend.

Website

|

Email

Grand Final Day - Win a Bar Tab Promotion

Footy finals live on the screens at Euro and Aer Rooftop.

Sports mad Melbourne will be well satisfied with sports sports sports shown live and 4 levels of entertainment at Euro on Saturdays you will find your footy or non footy level! Go on take a screamer up in the Aer Rooftop!

Website

|

Email

Grand Final Day

If you want to immerse yourself away from the hum drum of footy then Byblos Melbourne will be your sanctuary. Overlooking the Yarra River with a pleasant mediterranean vibe you could be as far away from footy as you like. Great meals and drink so check it out.

Website

|

Email

Spring Functions

Enjoy the tastes of the American South at this vibrant restaurant just outside the Melbourne CBD. Perfect for your Springtime functions with sit down and cocktail style packages available. Contact Le Bon Ton now to book your next Private Function or Party.

Website

|

Email

AFL Grand Final Day

Live on the Ludlow big screens will be the AFL Grand Final on Saturday 3rd Oct. BBQ and specials on drinks. Make sure you book this and ask about the half time handball comp! Fun for all located right on the Yarra River, Southbank!

Website

|

Email

Grand Final Long Weekend

The whole Grand Final Long Weekend is covered at PJ O'Brien's from Thursday to Sunday. With a public holiday in Melbourne on the Friday it will be fun, fun, fun at this great venue located in Southbank. Specials and all the action live on the big screens!

Website

|

Email

Grand Final Day

There is not a finer way than to water taxi it along the Yarra River to the MCG.

And even better is to have a Grand Final Breakfast, Lunch or Dinner Package at Bearbrass all inclusive of the return water taxi to the big game. Bookings advised and be quick!

Website

|

Email

Spring Functions

Hophaus at Southbank is a sensational venue for your next function this Spring. Amazing food with a Munich tilt and such a special space, it will make the perfect choice for your next work meeting or function. Great location and easy access to transport for participants on road, tram, rail and water. Give the Hophaus team a call.

Website

|

Email

Grand Final Eve Dining

If you are in town for the AFL Grand Final then eating and drinking well is a necessity. And if you need to carbo load for the big day it will be a good idea to head to the Italian inspired Terra Rossa on Grand Final Eve for one of their fantastic pasta meals. And wash that down with an ale or two.

Website

|

Email

Spring Functions

Have you got a function in Spring where you have the space but need some superb catering. It might be a work footy finals function party or something else for Spring in Melbourne.

Give the team at Harbour Kitchen a call and ask about their catering menus. Yum!

Website

|

Email

Grand Vouchers

Spring is such a giving time of year and if you have a special friend you need to treat then get them a State of Grace voucher and make a date. Maybe their footy team did not make the finals and they just need a pick me up. Come to State of Grace.

Website

|

Email

OMG have you booked your EOY function?

For that ultimate pop culture spring or EOY function chat to the crew at 29th Apartment. Giant Jenga and Shot Cakes are just some of the unique experiences that await. Awesome.

Website

|

Email

Table Bookings

Spring has sprung and it's a time of heading out with friends. Why not grab a table package at Little Red Pocket. All hassles taken out and guaranteed a booked table for this very popular spot!

Try the Samurai package thru to the Godzilla! Call the team to discuss.

Website

|

Email

Girls Night Out!

Girls if you want to skip the footy crowd then Marrakech is having a Girls Night Out on Grand Final Saturday night! A super special offer to make sure you have the best night. Great central Melbourne location! Enjoy!

Website

|

Email

Fishbowl Saturdays

What? There is footy on... We just want to dance and party! Fabrique nightclub just got a little Fishbowl R Rated on Saturday nights and Grand Final Night is no different. Come and party a little R rated style at Fishbowl and dance the footy finals away!

Website

|

Email

Our Bar is Open

We are a very good bar with very good honest food. So make sure you checkout all our special drinks. Whether it is Grand Final Day or any other day our beverages will take screamers over the rest! And take in the view of the Yarra while you rest your heels.

Website

|

Email

Spring

Have you got a special event this Spring? Then contact the good people at Showtime Events Centre at SouthWharf right on the Yarra River. A sensational location for your Spring event whether it be cocktail or gala or something corporate. Enjoy!

Website

|

Email
All done with Grand Final Day for the year? Start looking towards the next BIG day, Melbourne Cup Day. Over at CupDay.com.au we've got the details of all the Hot Events happening in Melbourne over the Cup Day break. Check out Cup Day Melbourne!