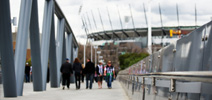 Grand Final Day 2016 is on Saturday 1st October for the AFL and Sunday 2nd October for the NRL. Both these footy events are celebrated all around Australia as people gather together. These special days are known as Grand Final Day but there is also a lot of special events on during Grand Final Week.
Whether it's time with friends at home around the BBQ or at a hotel or pub or restaurant, or maybe a night out in the city over your Grand Final weekend, we've got options to help your planning. Hey and maybe you might even head to the snow for the end of season Footy weekend.
Grand Final Day Weekend
Great things for the weekend of 1st & 2nd October 2016 including Grand Final Day Eve and the Grand Final Day, or if you are staying in checkout our other options.
Grand Final Day Events
Spring Sales are in force. Can you find a Grand Final Day bargain?
Sale suggestions over the Sping period. Spring Sales Specials galore! Click for more info