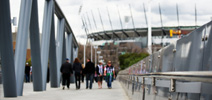 Grand Final Day 2019 is on Saturday 28th September for the AFL and Sunday 6th October for the NRL. The 2019 AFL Grand Final will be played at Melbourne's MCG. And the next weekend the NRL Grand Final will be decided at Sydney's ANZ Stadium. Both these footy events are celebrated all around Australia as people gather together. These special Big Days are known as Grand Final Day but there is also a lot of special events on during Grand Final Week.
Whether it's time with friends at home around the BBQ or at a hotel or pub or restaurant, or maybe a night out in the city over your Grand Final weekend, we've got options to help your planning. Where wil lyou be watching the big games. Hey and maybe you might even head to the snow for the end of season Footy weekend.
Grand Final Day Latest News

The latest news on Grand Final Day for our national games.
September 19, 2019 - Great new details for the Grand Flinal Long Weekend in Melbourne including the iconic Espy in St Kilda.
September 17, 2019 - Down to four in the AFL and six left in the NRL.
September 9, 2019 - With the Westcoast Eagles flying those in the West can checkout Grand Final Day ideas in Perth.
September 3, 2019 - It's Finals time people. Congratulations to minor premiers Geelong Cats in the AFL and to Melbourne Storm in the NRL.
August 27, 2019 - New details for Grand Final Day in Melbourne at Riverland plus updates on the Grand Final Day goings on at South Wharf favourite The General Assembly.
August 14, 2019 - The AFL final eight teams is firming up but who will slip in or out of the eight before the finals start? Essendon, Port Adelaide, Adelaide and the Bulldogs are all on the bubble.
August 12, 2019 - Grand Final Weekend info is coming thick and fast with new details on Hopscotch, Platform 28 offerings.
August 8, 2019 - Getting closer to the big day and new details have arrived for Boatbuilders Yard, General Assembly and Pigrim Bar. Get the Latest on Grand Final Day in Melbourne.
August 1, 2019 - Superb new details for Turf Bar in Melbourne Catch all the AFL and NRL Grand Final Weekend Action.
July 6, 2019 - The Woolshed Pub have announced their AFL Grand Final day VIP packages. Limited spots so be quick ina great venue with awesom VIP celebration packages See details about Grand Final Day in Melbourne.
July 2, 2019 - Fantastic Grand Final Weekend Accommodation available at the Stamford Plaza Melbourne & Amora Hotel Riverwalk. Check out all the details for Grand Final Day Melbourne.
July 1, 2019 - Another great weekend of footy in the AFL with the Tigers starting their charge for the AFL finals breaking back into the top eight. In the NRL the Storm got over the Roosters to stick the top of the table!
June 22, 2019 - NRL Grand Final to be help on Sunday 6th October.
June 3, 2019 - AFL Grand Final to be played at the MCG on Saturday 28th September.
Grand Final Day Weekend
Great things for the Grand Final weekend including Grand Final Day Eve and the Grand Final Day, or if you are staying in, checkout our other options.
Grand Final Day Events
It's going to a huge Spring Big Days weekend with lots of things to do. If watching the big games is your go, then they will be best viewed with great TV screens and atmosphere. These fabulous venues cerainly provide all the ingredients for that. Have a great Grand Final Day!
Spring Sales are in force. Can you find a Grand Final Day bargain?
Sale suggestions over the Sping period. Spring Sales Specials galore! Click for more info